Our Favorite Trees and Shrubs for Spring Blossoms
We're so glad that spring has finally sprung in central Ohio! It's our favorite time of year at Strader's, when we get to see all of our favorite trees and shrubs in bloom. Here's a list of our favorite flowering trees and shrubs that you can take home to add bright spring blossoms to your garden:
Our favorite spring flowering trees
With blossoms that mark the first signs of spring each year, our top five favorite flowering trees in spring include Magnolia, Serviceberry, Crabapple, Redbud, and Dogwood.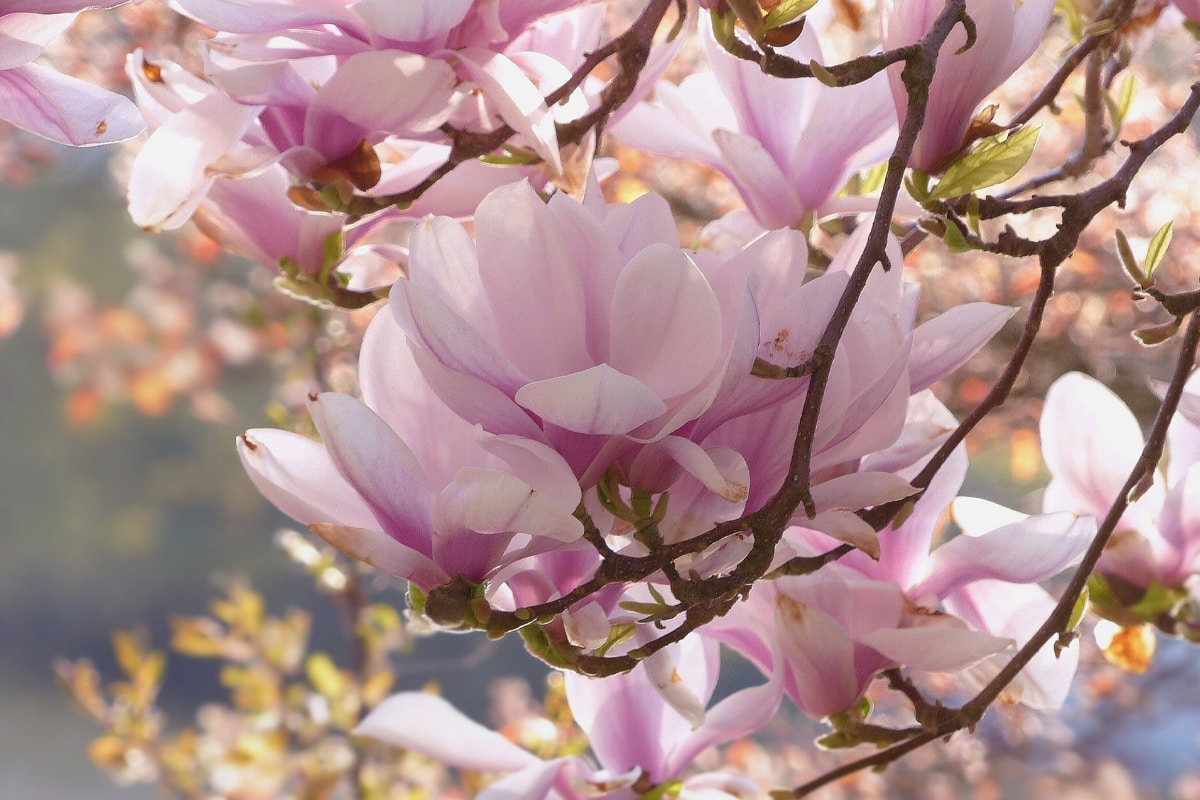 Magnolia
With large, teacup shaped flowers and striking foliage, Magnolia trees usher in spring and make a beautiful addition to any yard. Magnolia Saucer and Star varieties are especially early bloomers, often blooming in March each year. However, the bloom time depends on spring temperatures that are ever-changing in central Ohio. 
Magnolia trees can grow up to 20 feet tall and wide, so before you plant make sure you select a site in your yard with room for your new tree to grow. If you're looking for a smaller tree, Magnolia Ann and Jane varieties only grow up to 10-15 feet tall. Magnolias are adaptable to different types of soil, including clay, loam, or sand soils. Most Magnolias grow best in moist but well-drained soil, so you'll want to avoid planting your Magnolia in wet or poorly draining locations in your garden.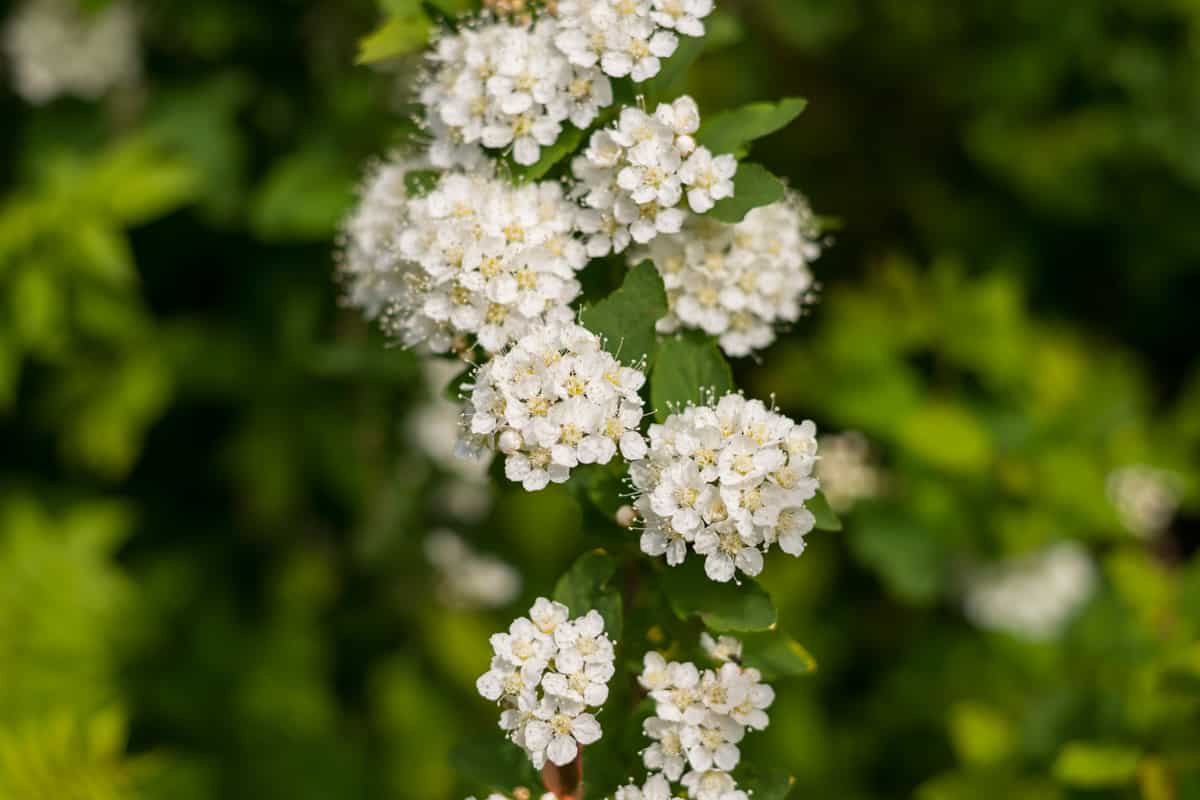 Serviceberry
Serviceberry is an excellent native tree to Ohio and is perfectly suited to moist areas. The white flowers of Serviceberry typically bloom in April. Serviceberry trees can add visual interest to your landscape that changes with the seasons. Flowering in spring, Serviceberry produces reddish black berries in summer, then shows off bright colors in the fall, and finally displays interesting striped gray bark in winter.
Serviceberry trees grow best in spots that are well-drained to moist and that get full sun, especially if you want to harvest its fruit. Serviceberries are edible, ripening in mid-June to taste like a combination of blueberries and concord grapes. Serviceberries can be used in jams and preserves or baked into bread, muffins, or scones. On top of its attractive appearance and delicious berries, Serviceberry also attracts songbirds to your yard, for extra appeal through the season!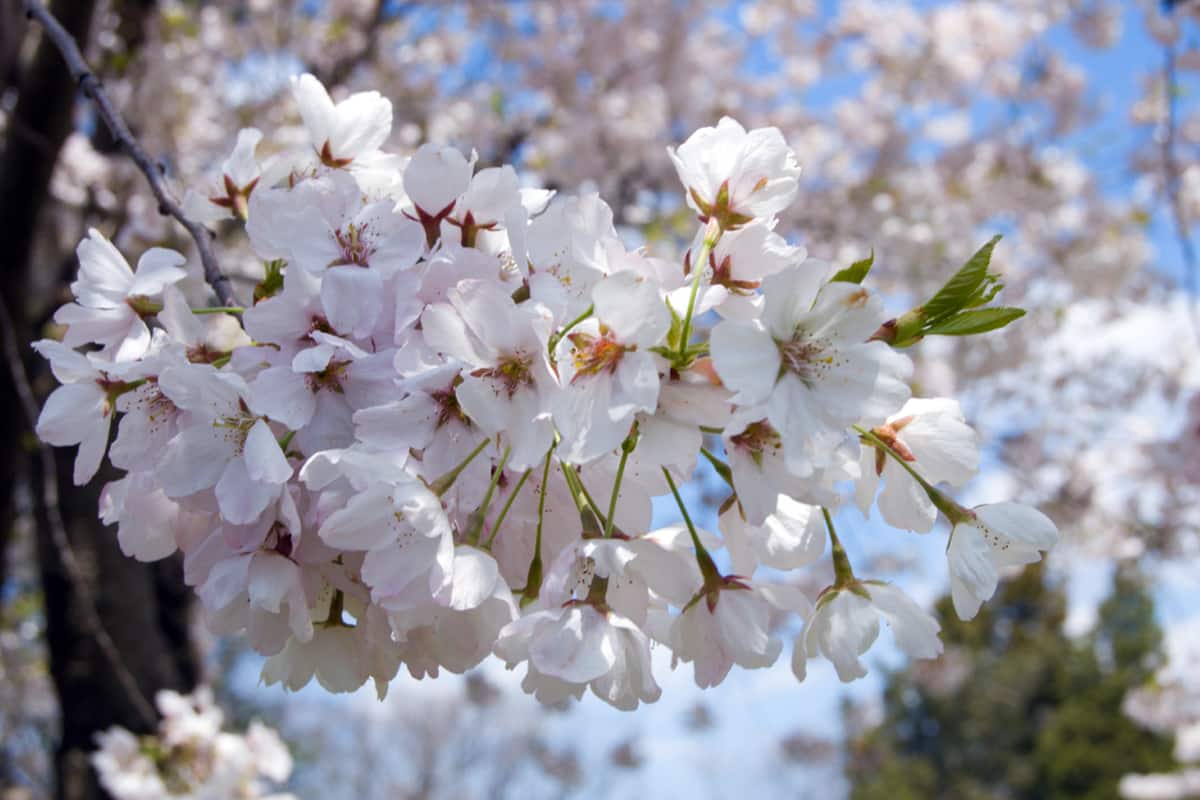 Crabapple
Like the Serviceberry tree, Crabapples provide spectacular visual interest to your yard all year. Fragrant blossoms begin to appear in April, ranging from white to pink in color. By summer, Crabapple trees produce small fruit, which often lasts into the winter months, providing an important source of nutrition to native Ohio birds. Crabapple trees also showcase vibrant colors during the fall months. We have an assortment of Crabapple varieties that are highly disease resistant so you can enjoy colorful spring flowers with less hassle.
Crabapples prefer rich loam soil but will also tolerate clay soils that are common across Columbus. For better flowering and fruit development, choose a sunny site for your new tree, as shaded trees produce less fruit and fewer flowers. Drainage is also an important consideration when selecting the site for your new Crabapple tree. Crabapples tolerate drier soils, so you'll want to avoid areas of your yard that have poor drainage or stay wet for long periods of time after each rain.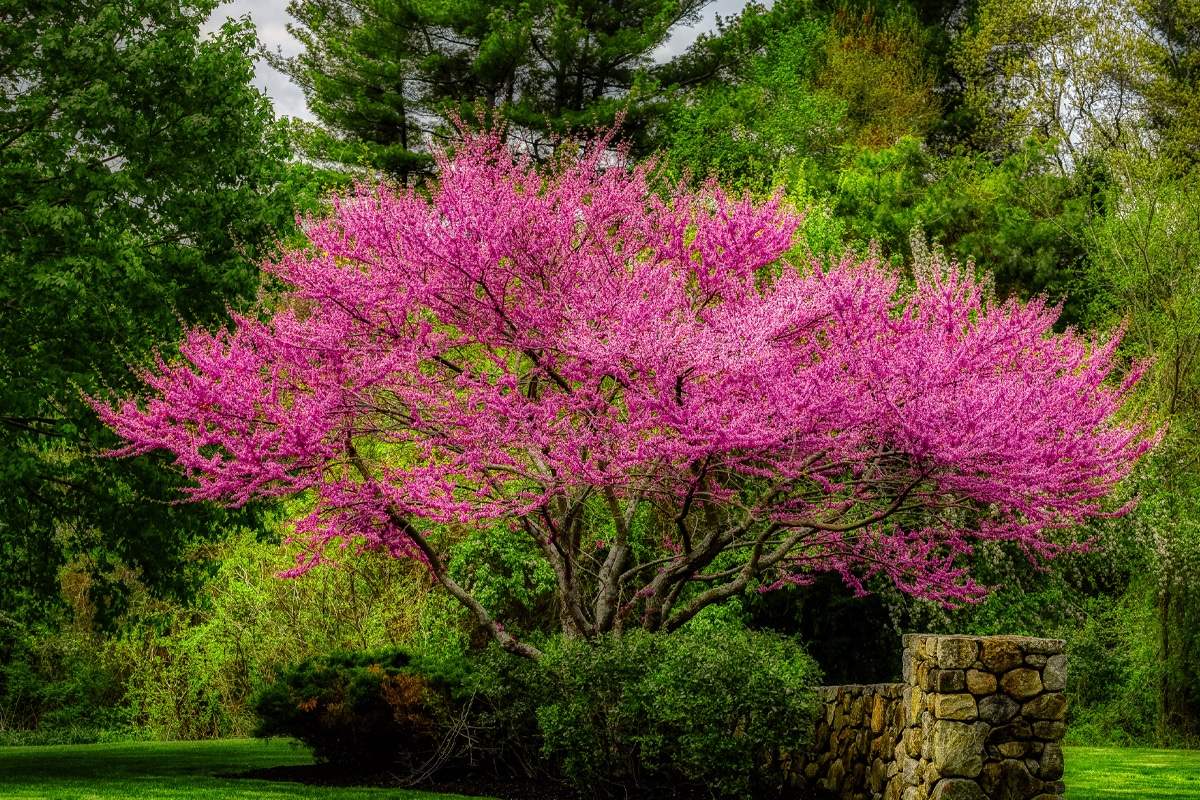 Redbud
Redbud is a rapidly growing ornamental tree with showy dark pink flowers that appear in early spring. Redbud prefers as much sunlight as possible, and is known to "lean" towards the sun when planted in shady spots. We typically carry Eastern, Forest Pansy, Merlot, Pink Heartbreaker, Lavender Twist and Rising Sun varieties.
Because these trees can grow up to 20 feet high and 25 feet wide, Redbud trees should be planted away from permanent structures like fences or home exteriors. Redbud trees prefer moist, well-drained soils but can also adapt to other soil types as long as they are not planted in areas that are too wet.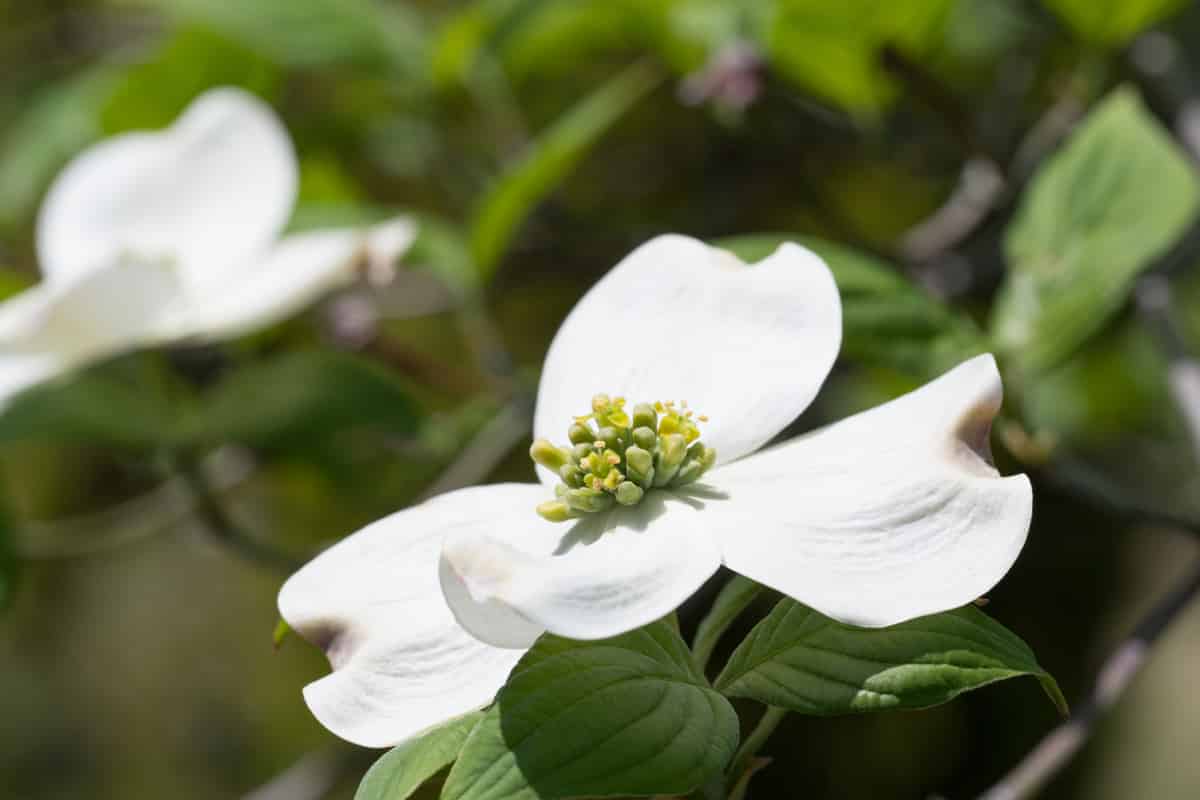 Dogwood
An Ohio native tree with large beautiful flowers that bloom from April to May, flowering Dogwood prefers partial shade and moist, well-drained acidic soil. Mature trees can reach up to 15 feet tall, but growth can be stunted if they are planted in rocky, dry, or alkaline soils with too much clay.
Flowering Dogwood is intolerant of drought during the first year after planting, so daily watering is necessary for the first few weeks following planting. After the first month, you can reduce watering to twice a week for the rest of the year, making sure to deeply water each time. 
Our favorite spring flowering shrubs
Compact but colorful, our favorite spring flowering shrubs for any central Ohio landscape include Rhododendron/Azalea, Lilac, Fothergilla, Forsythia, and Fragrant Viburnum.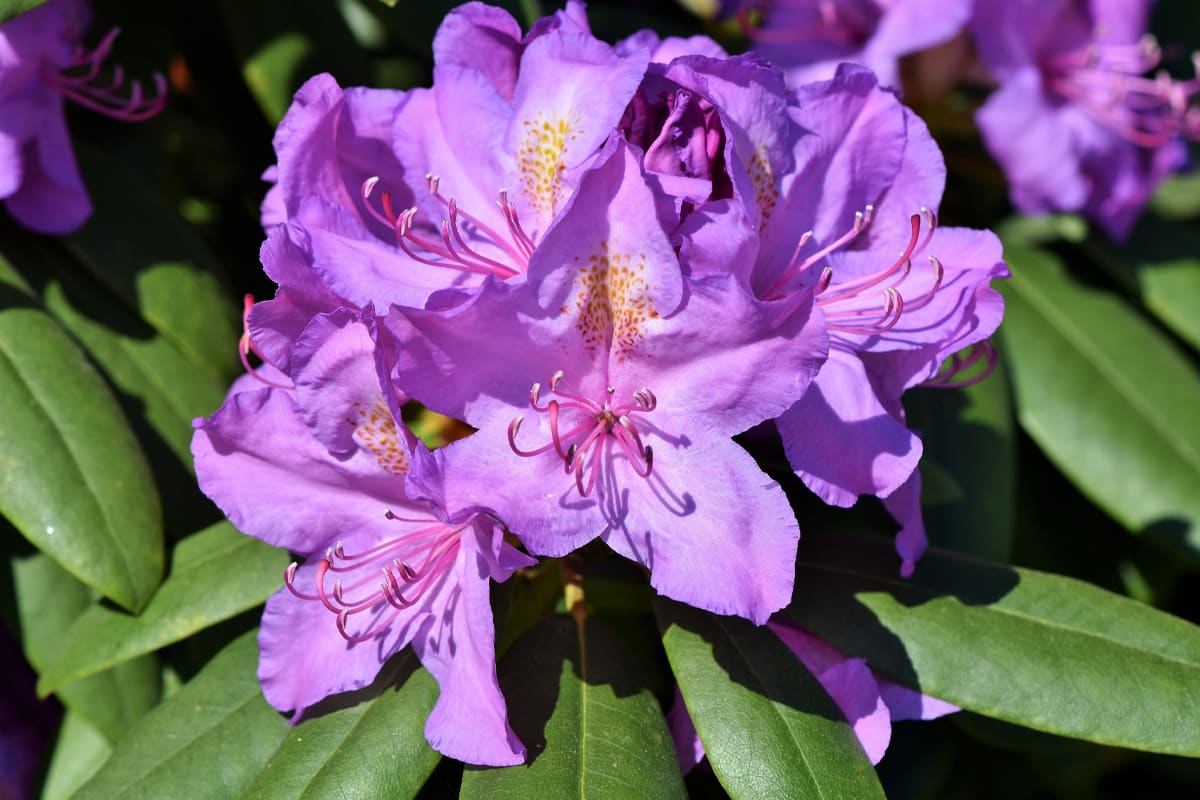 Rhododendron/Azalea
With brilliant, jewel-colored blooms, Rhododendrons and Azaleas stand out as focal points in any garden. Rhododendrons and Azaleas have a reputation for being finicky, and require specific planting sites to avoid too much wind, sun, and alkaline soils. 
Because Rhododendrons and Azaleas can be damaged by strong winds, we recommend planting them along the north or east side of your house, so your house can provide extra protection from the elements. In general, Rhododendrons and Azaleas prefer some shade, especially protection from midday sun which can cause the leaves to burn. So you'll want to consider places in your yard that provide a canopy of shade for part of the day. Rhododendrons and Azaleas also love acidic soil, which is not typically found in most gardens in the Columbus, Ohio area. Fortunately, there's a quick fix: add peat to your soil for a 50/50 mix before planting.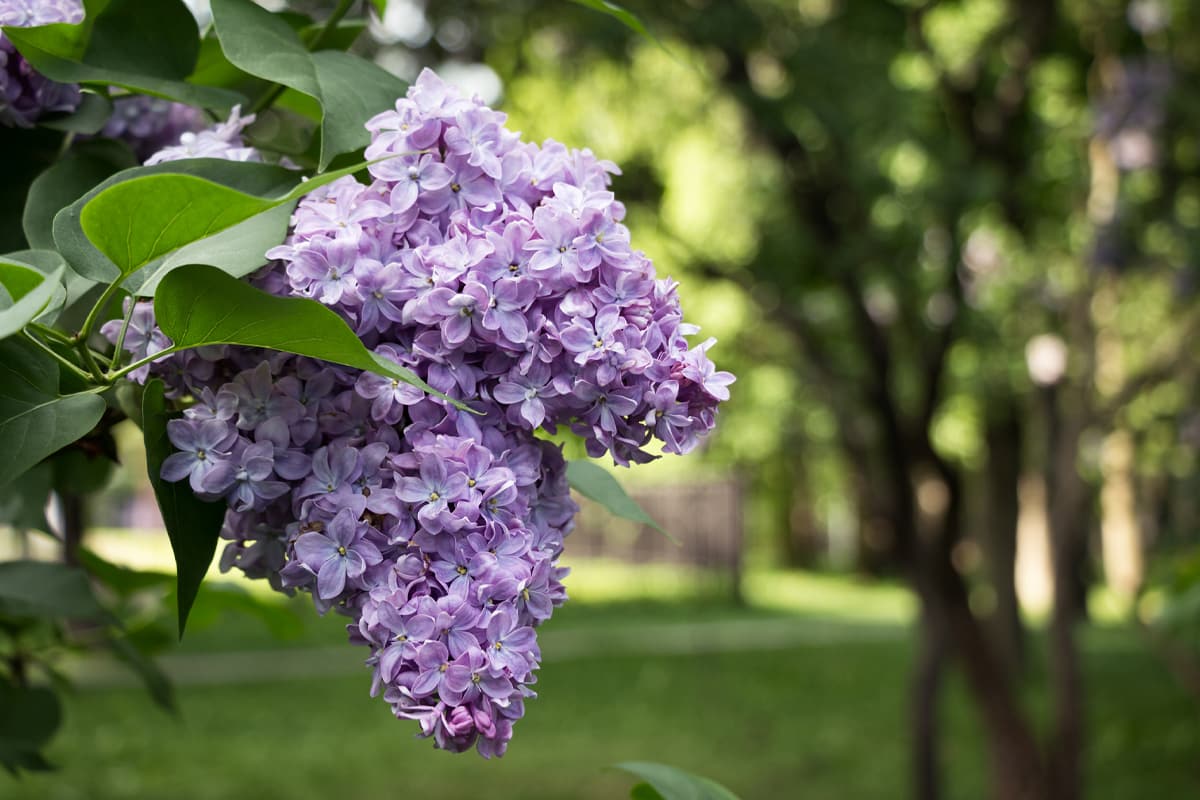 Lilac
Known for their fragrant panicle blooms in colors ranging from white to purple, Lilacs produce some of the sweetest-smelling blossoms to help usher in spring. With a range of shapes from dwarf shrubs to tall oval shrubs and even tree varieties, Lilacs fit into any landscape—some varieties like Bloomerang are even repeat performers, so you can enjoy blooms in spring and again from mid-summer into fall.
Lilacs are sun-loving shrubs, but also do well in part sun. Lilacs cannot tolerate soggy, wet landscapes, so select a site in your yard with well-drained, amended soil. While Lilacs are generally easy to maintain, you'll want to water often for the first year after planting to help your new shrub get acclimated.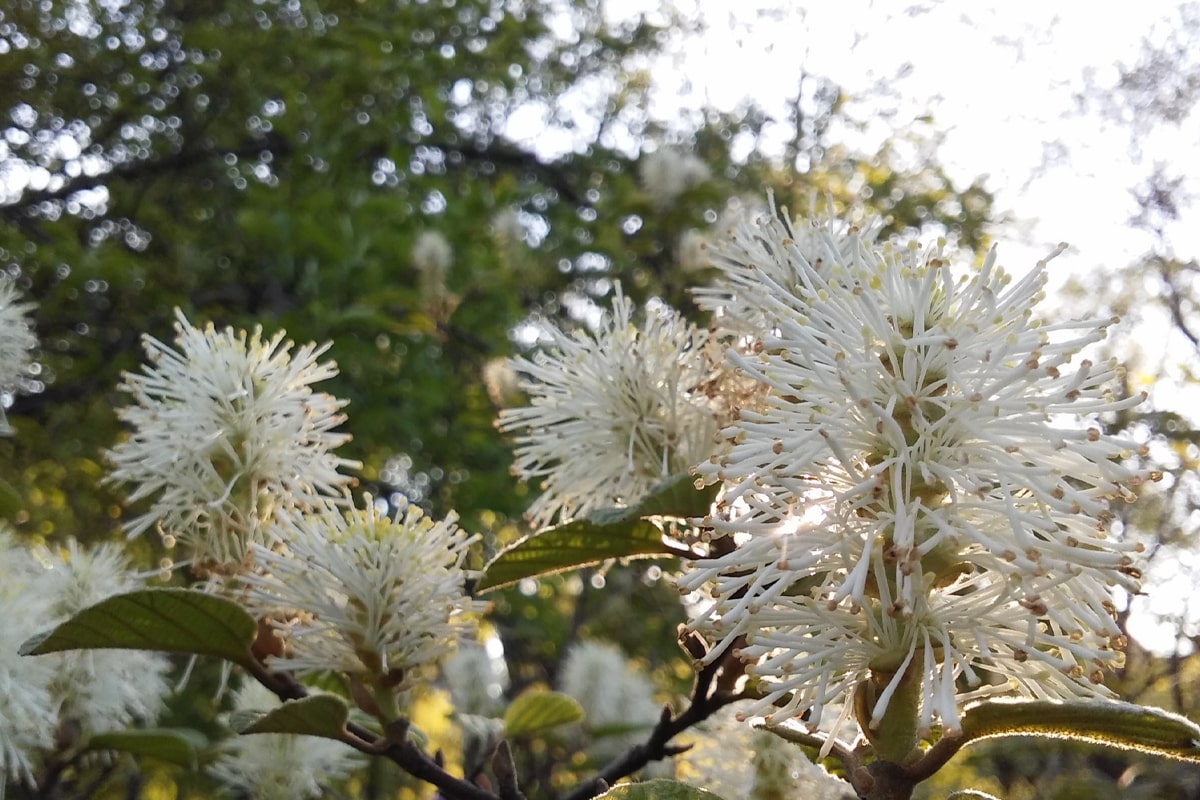 Fothergilla
With showy white bottle-brush shaped flowers in spring, Fothergilla is a low-maintenance option that will add blossoms in spring and vibrant colors in fall to your garden. Fothergilla prefers full sun to partial shade. While Fothergilla is a hassle-free shrub that does not require pruning, it does not tolerate wet or poor draining soil, so be sure to select a spot in your yard with well-drained soil for optimal growth.
Fothergilla prefers lightly acidic soil, so once you've selected the location for your new shrub, you'll want to mix a little Canadian peat in with your garden soil before planting. Water frequently until your new shrub is established. After that, you only need to water when the soil is dry.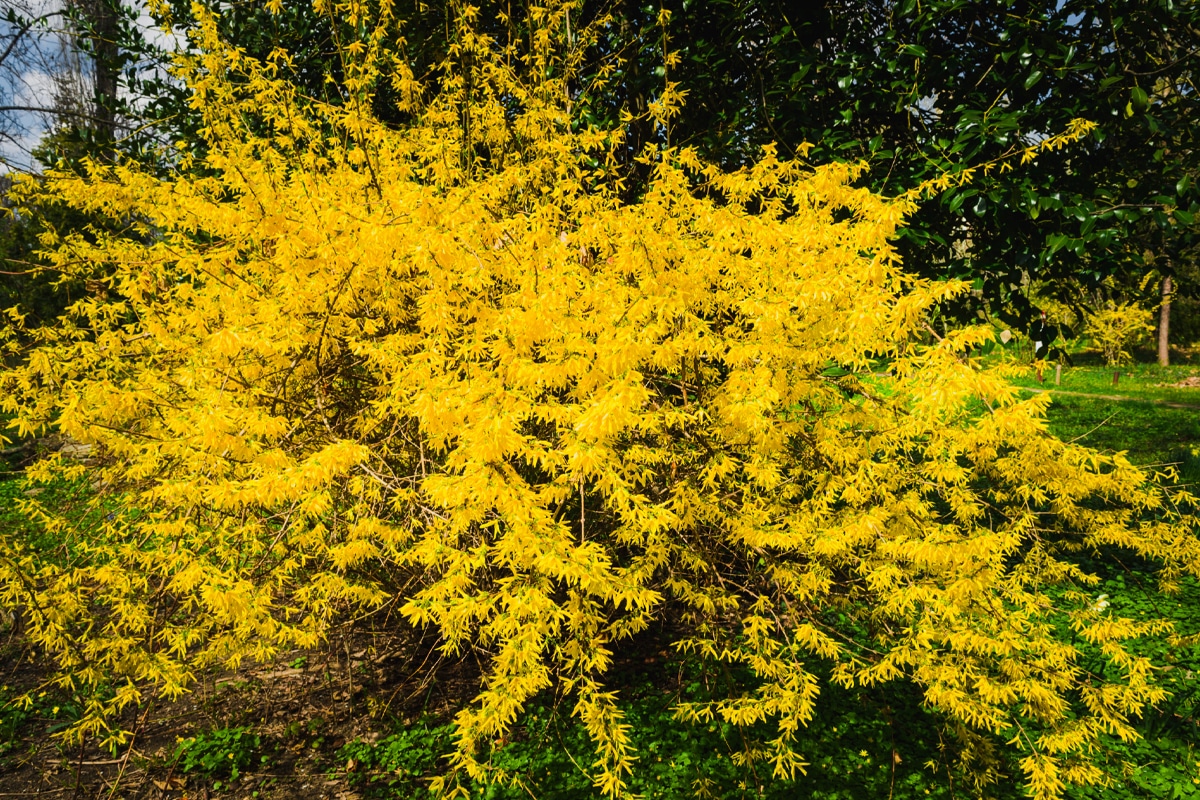 Forsythia
You may have noticed shrubs with bright, golden yellow blooms while driving around Columbus, Ohio. Forsythia is an eye-catching shrub that adds extra color to your spring landscape. A fast-growing shrub, Forsythia is ideal for hedge planting or privacy borders. The Show Off variety is especially attractive, with compact, dense yellow flowers along the entire branch. This variety is also deer resistant and does not require any pruning.
Forsythia prefers full to part sun and well-drained to moist, amended soil. Forsythia can also grow to be quite tall, with some varieties reaching up to 10 feet tall, so select a spot in your garden with room to spread out. Forsythia is not tolerant of drought and needs extra water during the first year while it gets established in your yard.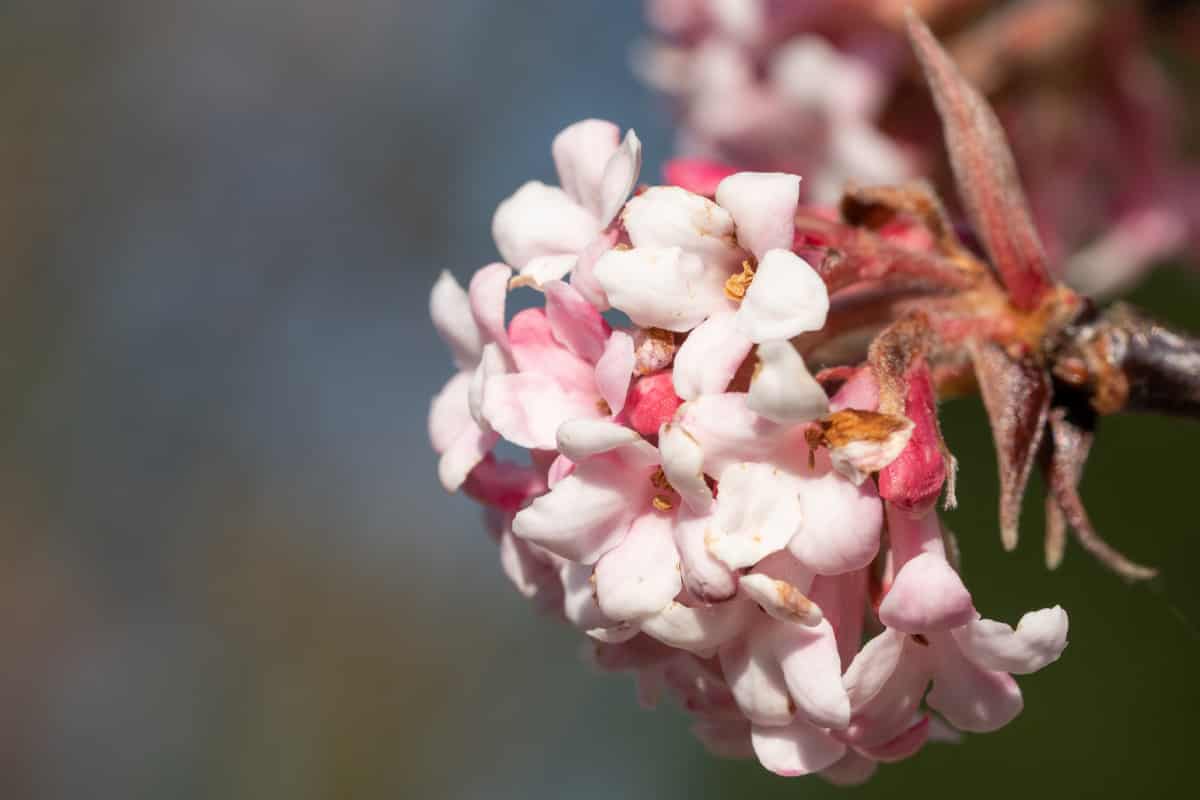 Fragrant Viburnum
With a distinctive fragrance that reminds us of spring, Fragrant Viburnum features showy clusters of fragrant white to pink flowers and dark, striking foliage. Fragrant Viburnum starts producing sweet-smelling blooms in April, and also adds extra color to your landscape in fall with deep red to purple foliage. This shrub is both beautiful and hassle-free, attracting birds to your yard but deterring deer who prefer other plants.
Fragrant Viburnum can grow to be up to 8 feet tall with a spread of 7 feet, so you'll want to select a site in your yard with plenty of space for growth. We do have a new variety in-store this year that is smaller called Lil Ditty, for smaller garden spaces. Fragrant Viburnum does best in full sun to partial shade, and prefers well-drained to moist soil. 
Planting tips for best results
For best growing results with your new flowering tree or shrub, we recommend digging a hole 2-3 times as wide and just as deep as the root ball. Next, remove the plant from its container and loosen the soil around the root ball. Then place the root ball in the hole so the top of the root ball is even with the ground surface.  
Fill in the hole with a mix of your soil and Bumper Crop® or Posey Power™ organic soils or Canadian Peat to help condition the soil and provide extra nutrients. We also recommend that you finish with Espoma Bio-Tone® fertilizers to give your plants a healthy head start this growing season.
Water at least once a week for the first year, being sure to thoroughly soak the roots with at least 1 inch of water per week. Mulching can also deter weeds and help retain moisture to keep your new tree or shrub protected. When you add mulch around the base of the tree or shrub, make sure the mulch is applied flat around the base and doesn't touch the plant itself.
With the soil now workable in your garden, now's the perfect time to plant a new spring flowering tree or shrub! Come to any of our six convenient Strader's locations and we can help you select your new favorite spring flowering tree or shrub for your yard, plus Bumper Crop, Posey Power, and the full line of Espoma Bio-Tone fertilizers!  
Want to surprise the gardener in your life this Easter? Our Strader's gift cards are the perfect holiday gift to kickstart the growing season!