Spring Ahead This Fall Season With Bulbs
While your clocks must fall back in just a few short weeks, your garden can still spring forward—with bulbs! At Strader's, we've stocked up on all our favorite bulbs for next spring, including Daffodils, Tulips, Garlic, and more! Stop by any of our six convenient locations in Columbus, Ohio and our friendly staff can help you select from our huge assortment of bulbs to plant now, for a spring full of colorful blooms!
Plant ahead for bright spring blossoms
We love spring bulbs for so many reasons. First, they're incredibly easy to plant throughout the fall season. Second, many varieties are squirrel and deer resistant. And last but not least, seeing colorful blooms appear in spring helps us shake off the winter blues and prepare for another fun growing season ahead! Here are our easy care tips for adding spring bulbs to your landscape:
 Among the earliest bloomers in spring, Daffodils aren't just the traditional butter yellow flowers you've seen across central Ohio. These days, Daffodil varieties include white, pink, and orange colors in both bold and pastel hues.
Daffodil bulbs can be planted anytime between September and November, or at least 2 weeks before the ground freezes for winter. Daffodils require full sun, but can be planted in areas where deciduous trees will create a canopy of shade later in the summer months. Make sure your site has well-drained soil, as bulbs may rot in poorly draining soils.
Until you're ready to plant, you can store Daffodil bulbs in a cool, dark, dry area with good ventilation. To plant, first dig a hole 6 inches deep, then amend with soil rich in organic matter. We highly recommend Bumper Crop® or Posey PowerTM to help amend your soil! Next, place your Daffodil bulbs in the ground pointy side up, then finish by watering thoroughly.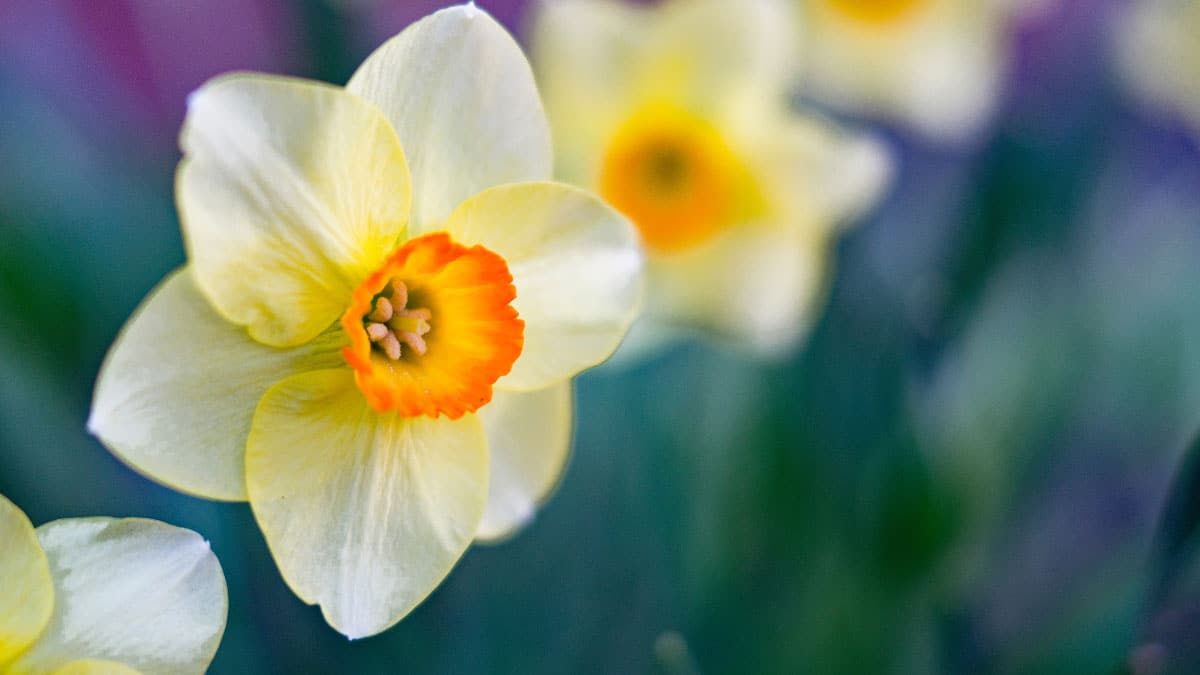 With so many varieties that include smooth petals, fringed petals, soft pastel colors, and bright jewel tones, Tulips are some of our favorite spring flowers. Tulip varieties also have varying bloom times, so you can plant several varieties to enjoy blooms that last throughout spring!
We recommend waiting until later in the fall to plant your Tulip bulbs. November is ideal for planting Tulips because colder temps help prevent disease caused by fungal growth, and planting bulbs later also protects them from squirrels and chipmunks during the hoarding season. Because Tulips are susceptible to fungal diseases, we also recommend planting fresh Tulip bulbs each fall, and removing old bulbs in the summer after blooms have faded.
Like Daffodils, Tulips prefer sunny locations in your yard, and require soil that drains properly. To plant your Tulips, first dig a hole 6-8 inches deep, making sure to mix in a soil amendment to ensure proper drainage. Place your bulbs with the pointy end facing up, cover with soil, then water right after planting.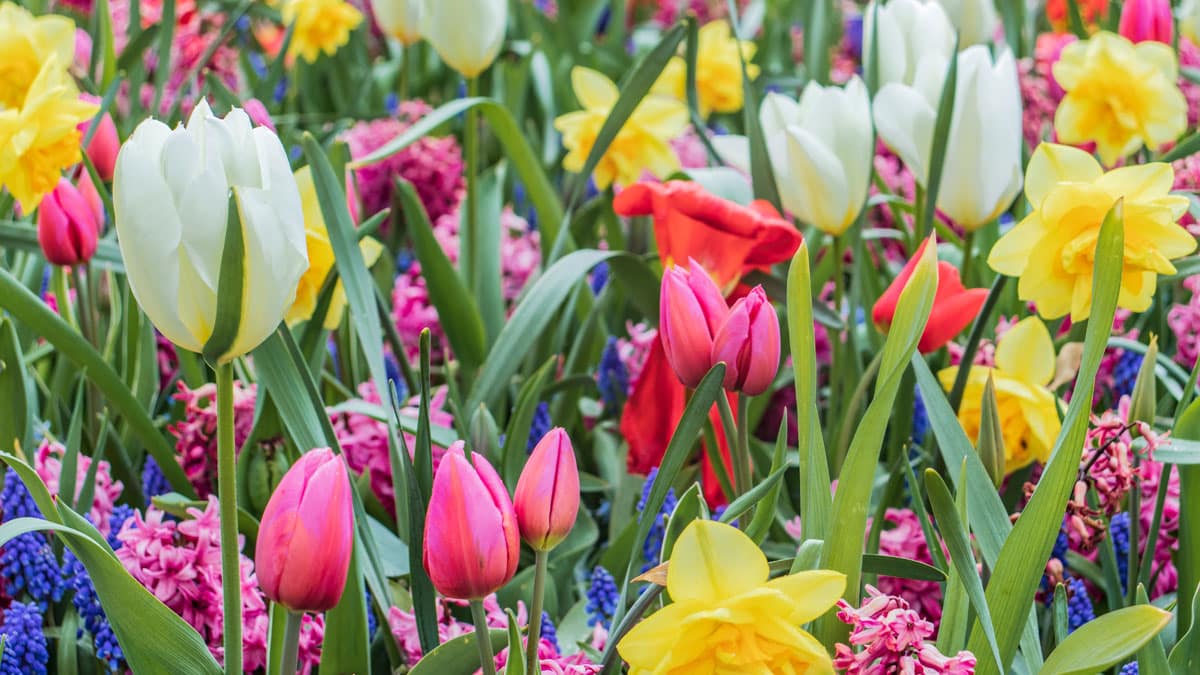 As beautiful as they are fragrant, Hyacinths are another early-blooming spring bulb that will fill your landscape with a kaleidoscope of colors for spring. Available in colors ranging from lilac to pink, cobalt blue, white, and even magenta, Hyacinths are also easy to grow and will come back year after year to add dazzling color to your yard!
Both Hyacinths and Muscari, or Grape Hyacinths, have the same planting and care requirements. These bulbs should be planted mid to late fall, after the first frost but before the ground freezes for the year. To get started, first pick a spot in your yard that gets full to part sun, as Hyacinths require 6 hours of sunlight per day. Next, dig a hole 4-6 inches deep. Amend your soil with organic matter and place your bulbs with the pointed end facing up. Finally, give your bulbs a drink of water and get ready for a spectacularly sweet-smelling display next season!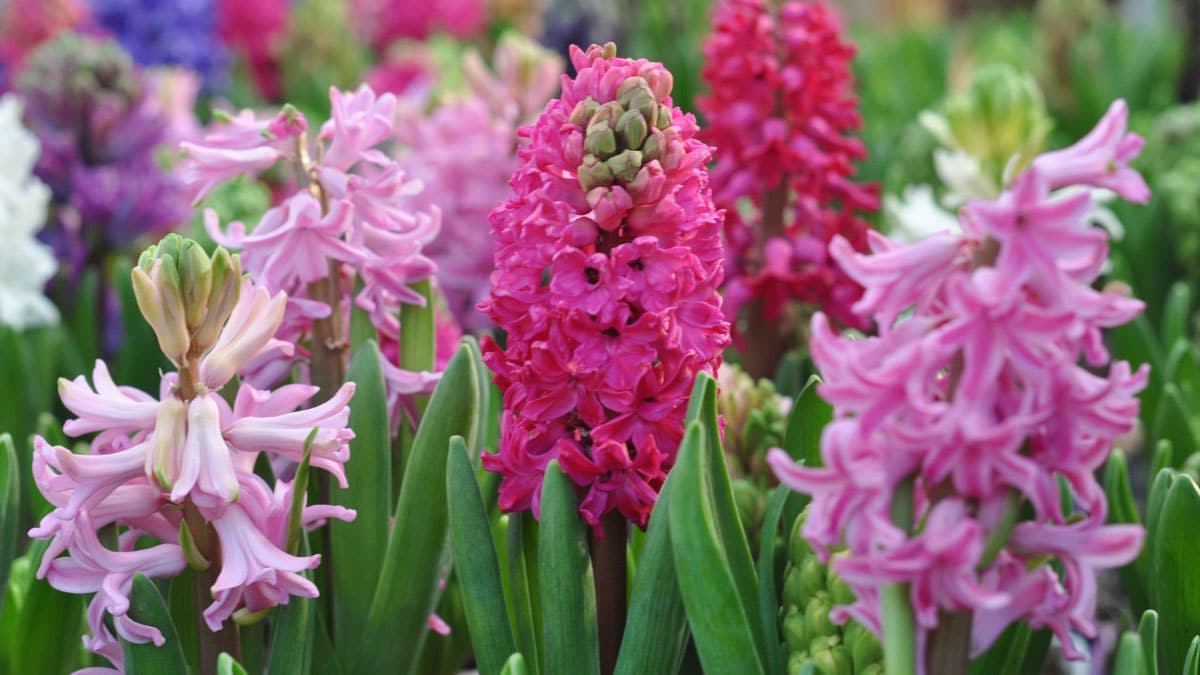 The early blooming flowers you see around your neighborhood are almost certainly Crocus. This very early spring-blooming flower is incredibly easy to grow and care for. Like other spring bulbs, Crocus bulbs require lots of sunlight and proper soil drainage. If you have heavy clay soil in your yard, you'll want to amend with organic matter or even aerate your soil using a hand tool before planting.
To plant your Crocus bulbs, first dig a hole 3-6 inches deep. We recommend planting crocus bulbs together to form a more impressive spring display, so create a wide hole so you can space the bulbs 2-3 inches apart. Crocus bulbs also do best when planted away from water-thirsty summer plants, so consider the right location in your yard carefully before planting, and you'll be able to enjoy returning Crocus blooms for years to come!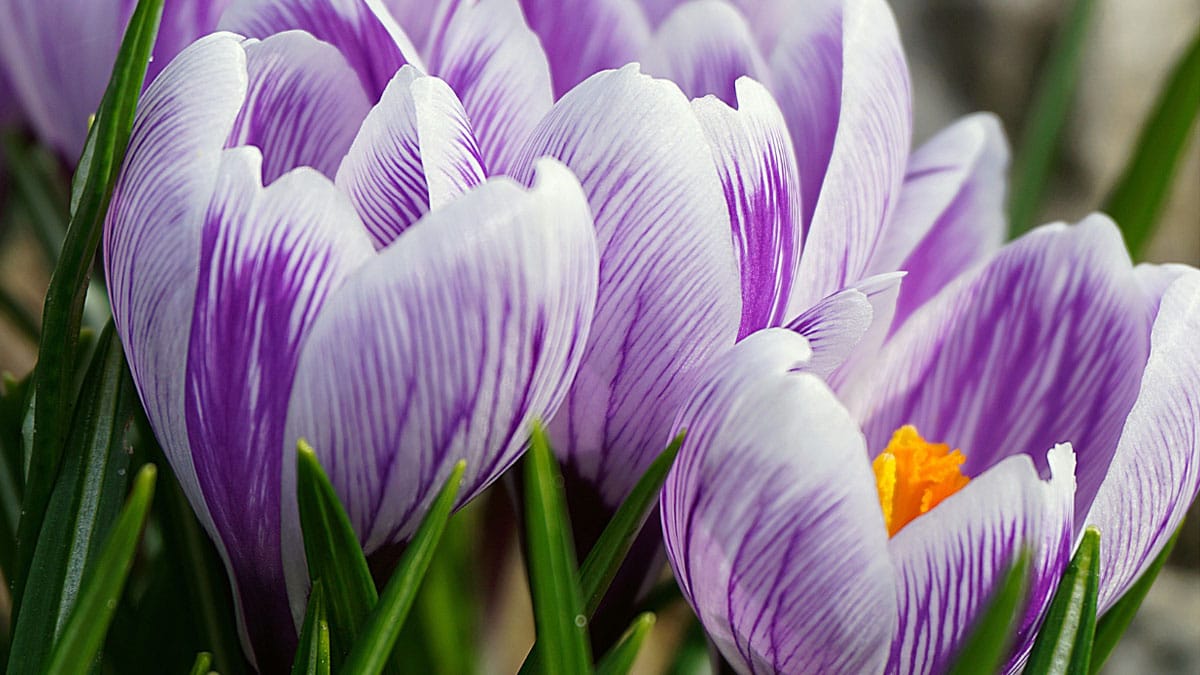 Like Crocuses, Snowdrops are another very early blooming spring bulb that produces delicate white flowers just as the winter snows melt away from central Ohio. Snowdrop bulbs should be planted in early fall, and should be planted as soon as you purchase them as they do not store well indoors.
To plant Snowdrop bulbs, start by loosening the soil in your garden bed, creating a hole just 2-3 inches deep. Amend the soil with rich organic matter, then place your bulbs with the pointed end up and cover with soil. Finish with a deep watering and then keep an eye out for these first signs of spring in your garden!
During the summer months, Snowdrops go dormant, so you'll want to take extra care when planting later in the growing season because you could accidentally dig up resting bulbs! But with shade during the summer months and proper drainage, you'll enjoy Snowdrop flowers for years to come.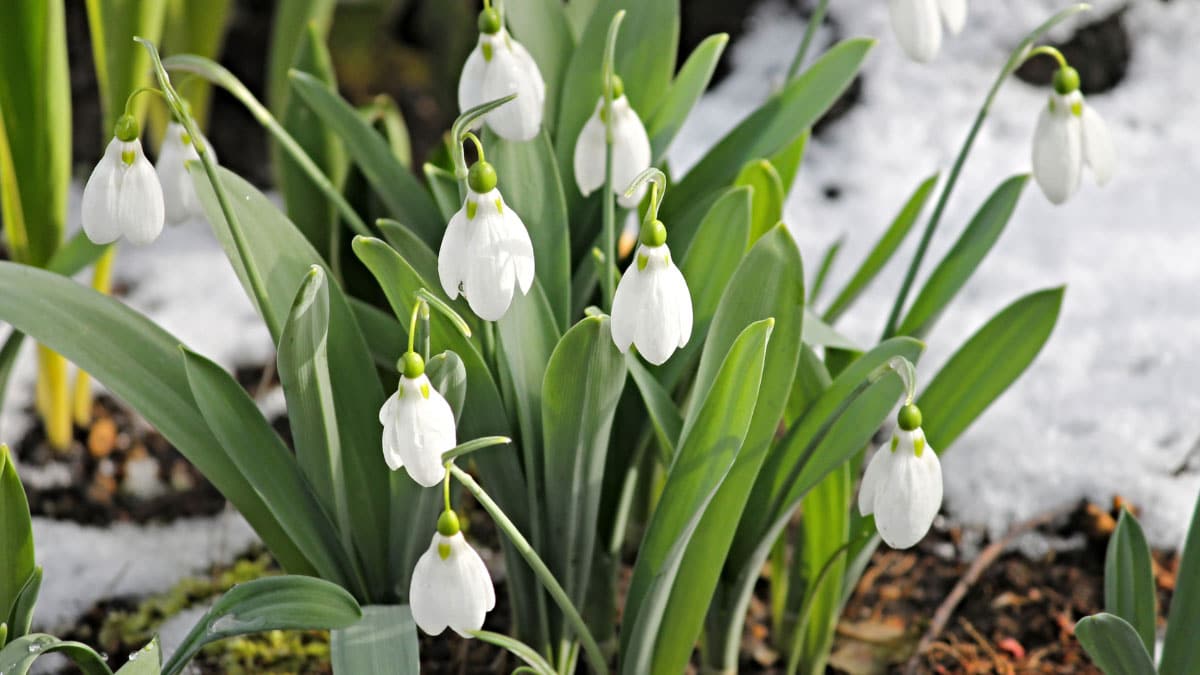 With a whimsical clustered flower shape and colors ranging from purple to yellow, white, pink, and even blue, Allium is a striking addition to your spring garden. Allium bulbs should be planted in the fall after the first frost but before the ground freezes. Like other spring bulbs, Allium does best in a sunny spot in your yard with well-drained soil.
To plant Allium bulbs, first dig a hole 4-8 inches deep. Note that it's better to plant Allium bulbs too deep than too shallow. Amend your soil with rich organic matter. If the soil is moist, you won't have to water your Allium bulbs after planting, making fall planting a breeze! Next year, you'll be rewarded with eye-catching blooms that last up to 4 weeks from late spring into summer.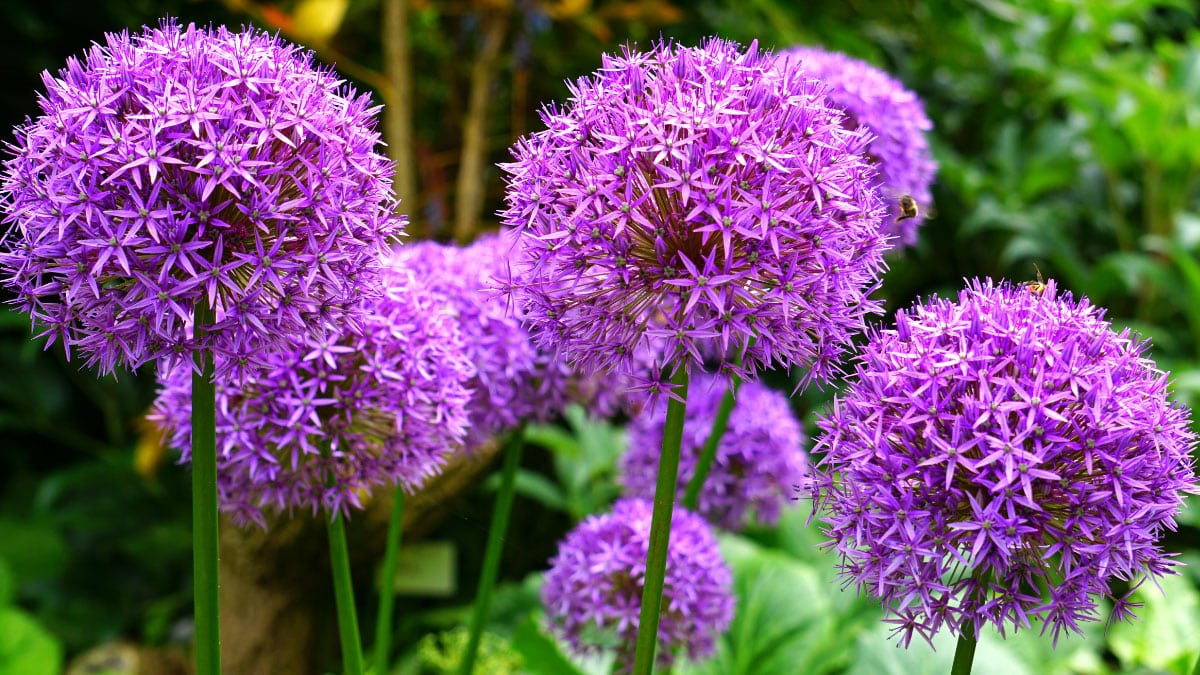 Don't forget to get a jump start on your vegetable gardening this fall! Garlic bulbs love being planted during cool fall months, ideally a few weeks before the ground freezes for winter. Unlike flowering spring bulbs, Garlic is a very hardy plant and is not affected by disease or pests. Garlic requires full sun during the growing season, so be sure to select a site in your yard that gets full sun after deciduous trees spread their leafy canopy next spring.
When selecting your Garlic bulbs, we do not recommend cloves that you purchase at your local grocery store, as they may be a variety not suited to central Ohio. The bulbs you find at the grocery may also be treated to preserve their shelf life, which makes them harder to grow outdoors. Instead, stop by your local Strader's and we can help you pick the right Garlic bulbs for your garden!
To plant Garlic, first dig a hole about 2 inches deep and amend your soil with organic matter to ensure that the bulbs have enough nutrients and proper drainage. Set the garlic bulbs with the roots facing down and cover with soil, then finish by watering.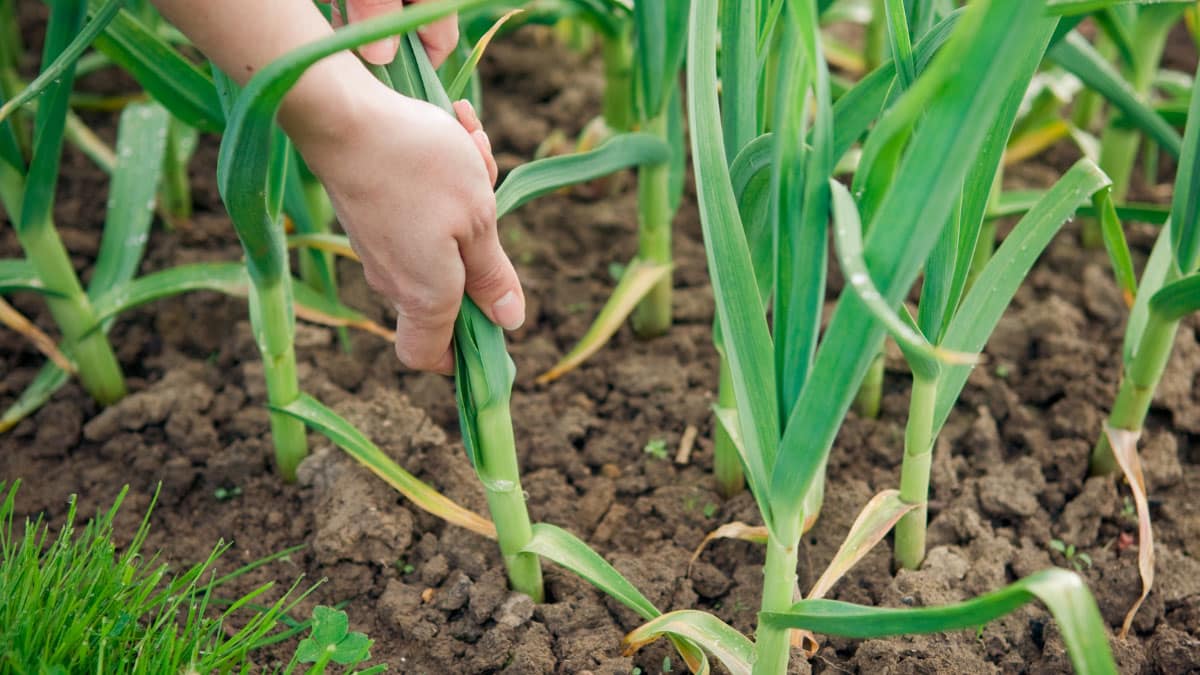 We have the right tools for your fall bulb planting project!
Stop by any of our six convenient Strader's locations, and we can help you select the right products to make bulb planting easy and effective. We have a large selection of bulb planters, augers, and fertilizers including Espoma Bulb Tone® and Espoma Bone Meal that provide supplemental nutrients to your bulbs so they can quickly set roots and settle in for the long winter ahead.
Give the gardener in your life a few extra reasons to look forward to next spring, when you surprise them with a Strader's gift card!